DIMEQ offers a wide range of services to fit your industry's specific needs. We will work with you from start to finish to accomplish your processing goals.
Custom Engineering & Design
Heating/Cooling Thermal Transfer
Optimal Material Finishing
Get a Quote For Your Project
Custom Engineering & Design
Engineering
The DIMEQ engineers have an exorbitant amount of knowledge and experience in the world of sanitary processing systems, allowing them to assess your requirements efficiently, as well as the complicated details of multi-phase projects. Once we understand your process needs entirely, and of course, you as our customer feels comfortable and confident, we will proceed to custom design!
Design
Our design team will bring your quoted process system or equipment to life by transforming conceptual PID drawings from either our in house engineers or customers themselves into custom, life like 3-D drawings. We will work with you to modify and revise plans accordingly to fit your required needs and space in order to provide functional, practical, beautiful equipment. Upon final drawing approvals, plans will be sent to production!
Fabrication to Print
If you already have your designs worked out, no worries! DIMEQ offers "Build to Print" Services. We can take your engineered drawings and bring them to life. 
From Design and engineering, to fabrication to print, our team will work along side you to assure your processing needs are evaluated and fulfilled in a timely manner, with the highest quality. We go above and beyond for our customers! Services provided by our engineering and design team are as follows: 
Vessel Sizing
Thermal Jacket Design
Seismic Zone Specifications
Batch System Design
Ancillary Equipment Support
CIP
Mixer Design and Specification
Pumping application
2D and 3D Cad
3D Renderings
Detailed and Dimensioned Drawings
Documentation Packages
Applications Assistance
Mixing Vessels
We design, fabricate and install batching and blending mix tanks and kettles used for the dosing of liquids, slurries, gases and bulk solids. We utilize a variety of flowmeter and load cell technologies and can customize a variety of blending tank systems from agitation to low and high-shear mixing. Our batching and blending tanks can be designed and fabricated in conformance with 3-A, USDA, cGMP, ASME, BPE, FDA and API standards.
Sanitary Vessels
From Bioreactors, Yeast Tanks, Fermenters, CIP/COP tanks, Horizontal, Rectangular, DIMEQ can deliver. 
ASME Code Vessels
Our pressure vessels are custom designed to meet your specific needs and can accommodate a broad range of materials, vessel capacities, and wall thickness options to address a wide variety operating conditions, including horizontal and vertical vessel options and both low and high-pressure applications upwards of 10,000 psi.  The "R" certification allows us to provide repairs and alterations to pressure vessels & pressure retaining items fabricated to ASME specifications and other specifications as well.
With in-house custom design & fabrication, a comprehensive QC Program, and our talented & experienced staff, we provide pressure vessel services that customers can count on. All of our pressure vessels are manufactured to the highest standards and certified in accordance with ASME Boiler and Pressure Vessel Code, Section VIII, Division I. All vessel welds use ASME certified welding procedures. Our quality control program utilizes hydrostatic inspection, as well as various non-destructive test methods to ensure that each and every vessel we produce operates to the highest levels of safety. All material test certificates (MTR's) and ASME forms are made available with every vessel.
DIMEQ Process Solutions, can also meet all of your process piping needs. We can design and fabricate process piping to meet ASME specifications.
All finished process vessels are tested and certified, National Board code stamped and registered.
Storage Tanks
DIMEQ fabricates custom vertical and horizontal hold tanks and storage tanks. We build to our customers exact specifications, we design, fabricate and install hold tanks and storage tanks using a variety of metals – from stainless steel and carbon to Hastelloy and AL-X6N alloys. Our stainless steel hold tanks and storage tanks can be ASME code-constructed and stamped, or non-pressurized holding tanks. From 25 Gallons to 30,000 gallons, our hold tanks and storage tanks can be fabricated to size. We also have a line of standard tanks in multiple sizes and designs.  Our standard storage tanks are available with Cone, Dished or Flat bottom heads and range in size from 25 to 30,000 Gallons.
We work with many process companies to provide them with necessary equipment they may need to source for their process projects. From storage tanks to full auto CIP skids, we are confident we can build you what you need for a successful plant build. 
5 Axis Waterjet Cutting
Plate Rolling Services
Segregated Material handling
Sanitary Welding and Piping
Structural Welding
Industrial Piping
Skid Systems
UL 508A Panel Shop
ASME "U" and "R"
DOT 406
Turn-key Products
Sheet Metal Work
Fabrication of: Stainless (all alloys), Copper, Aluminum, Duplex, Inconel, Titanium, Brass
Sanitary and non-Sanitary material finishing
Optimal Finishing & Treatment
A smooth, clean, surface, and a fine surface finish, is crucial not only for stringent hygiene standards, but also crucial for corrosion resistance when dealing with stainless steel in certain industries. There are many variables that go into determining the best method for post-fabrication treatments. Whether it be chemical and/or mechanical. Typically, chemical cleaning provides the most desirable and efficient results. This is because chemical methods greatly reduce the risk of surface contamination, while mechanical methods sometimes tend to produce a bit of a rougher surface. Why folks don't ALWAYS use chemical treatments? Well, this is because chemical cleaning may not only be limited by local regulations on environmental and industrial safety, but also limited by waste disposal issues. 
Chemical treatments are used to remove contamination of high-temperature oxide and iron. These treatments are intended to restore the integrity of the steel's corrosion resistant properties, while maintaining a smooth surface finish without damage. Once the organic contaminants have been removed, the most common chemical methods of treatment are as follows:
Pickling
Pickling is the removal of temperature scale and a chromium layer of metal from the surface of stainless steel by chemical means. This aids in exposing a fully alloyed stainless steel surface, ideal for high purity applications.
Passivation & Decontamination
In this process, the passivator is typically applied using immersion or spraying, which in turn strengthens the passive layer. It is especially effective to use post mechanical finishing because it also removes free iron impurities from the surface. Hence, decontamination.
Electopolishing
Electropolishing is extremely useful when it comes to equipment manufactured for industries that have highly stringent hygiene requirements due to the results being, an even microprofile. By polishing microtips from the entire surface, instead of selectively targeting impure areas of lesser corrosion resistance, this treatment provides one of the most optimal of finishes for corrosion resistance.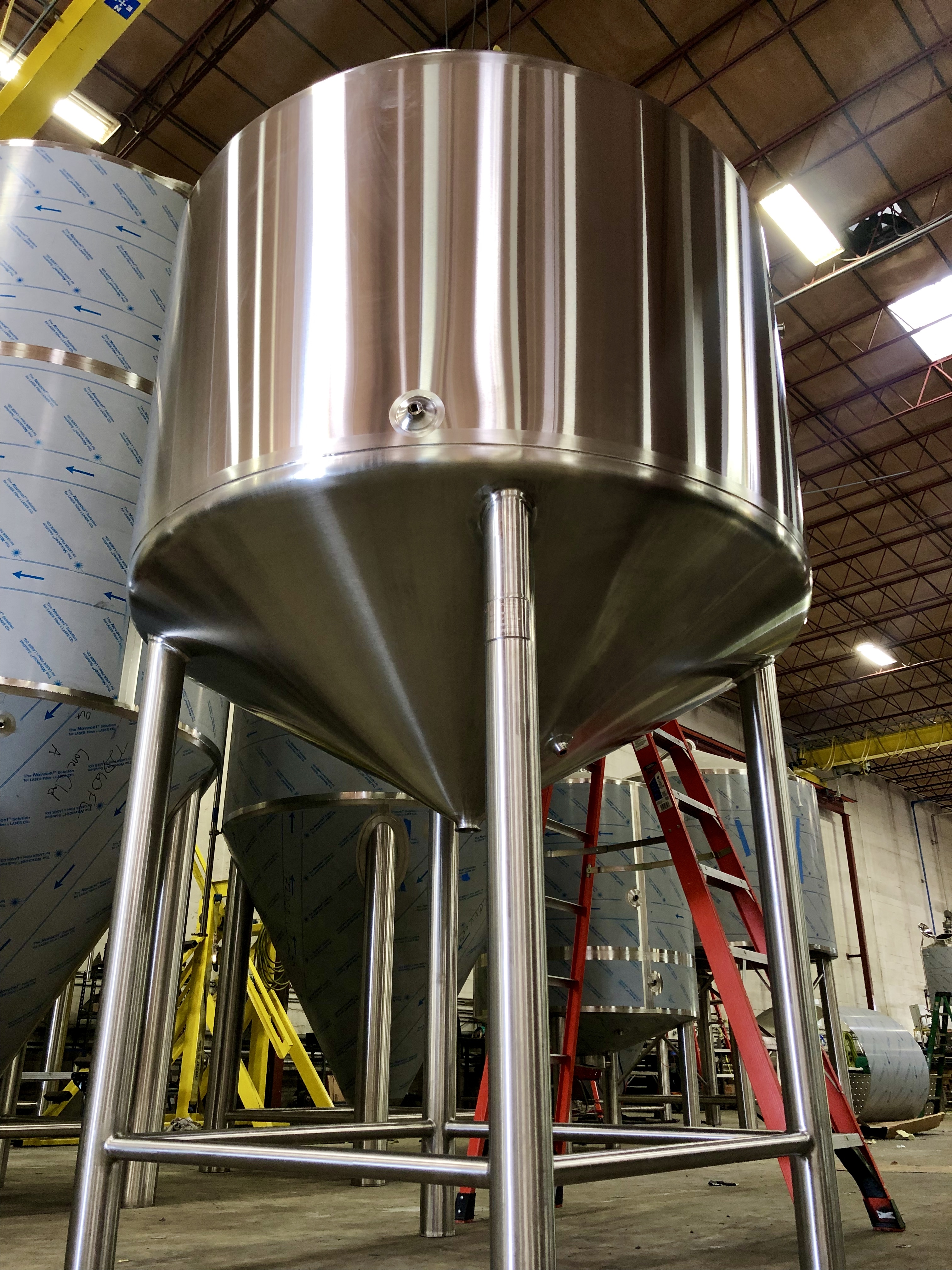 Tropicana Orange Juice
ASME Juice tanks for a filling application.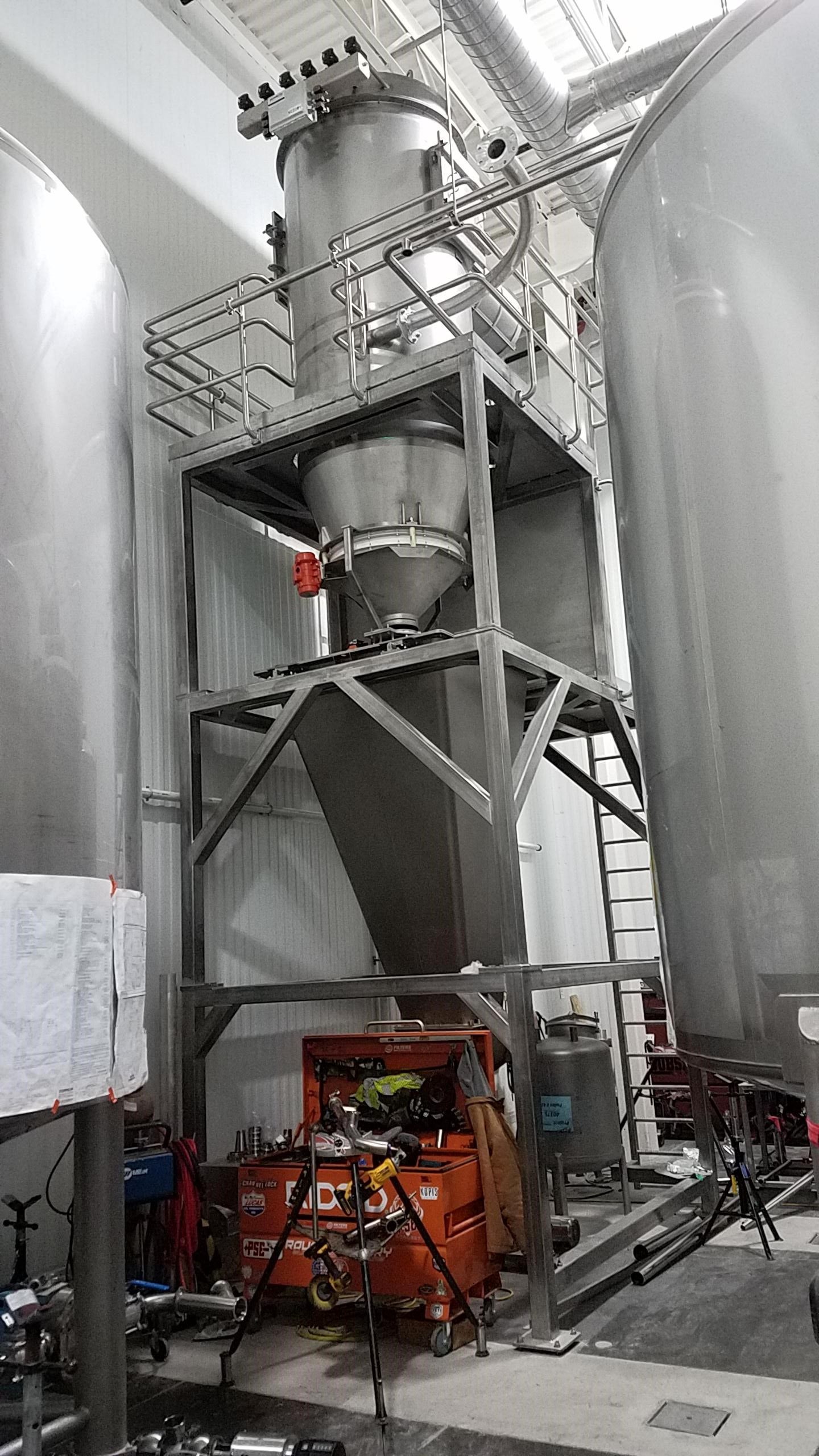 Ballinger Bakery
Lorem ipsuStainless Steel Structural Support Assembly.
30 Gal Yeast Tank
30 Gal Oil Tank
3- 250Gal Scale Tanks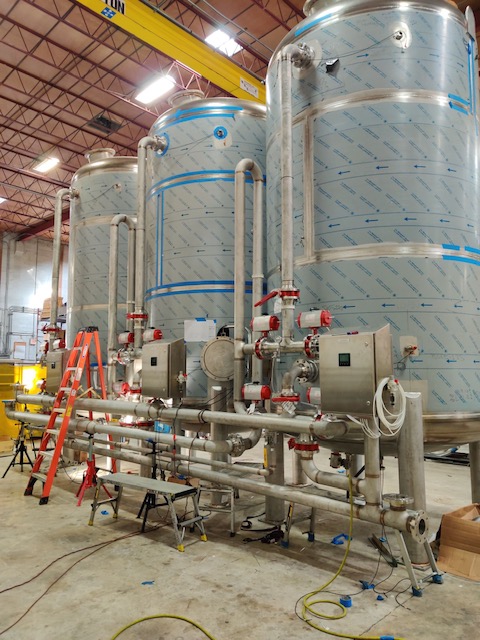 GAC Tower System
3- 5800 Gal ASME Carbon Towers
Industrial Piping Set